Juni 24, 2018, von: Mariya Dzhimova
VRHAM! The First German Festival for Virtual Reality and Arts Hamburg
VRHAM!, the first German festival for Virtual Reality (VR) and Arts Hamburg was running from 7th to the 17th June located at the Hamburg's Oberhafenquartier. VRHAM! showcased a wide variety of VR experiences by national and international artists, ranging from 360-degrees videos and computer generated worlds to VR-installation, where the user can move in the VR-experience. Further, many of the works include experiences at the intersection between theatre, cinema, visual arts and literature. However, beside this great diversity among the works, most of the experiences were related to the two festival's topics: [HOME] and [SHIFT]. Inspired by this year's motto of the Triennal of Photography Hamburg, "Breaking Point", the event focused on the topic about Belonging, Safety, Migration, Nomadism [HOME] on the one hand, and on the topic about Personal Change, Paradigm Shift, Variety [SHIFT] on the other hand. Among the experiences at the festival were "Geschichten aus Jerusalem" by Swiss director Dani Levy, "Sea Prayer" by renowned novelist Khaled Hosseini as well as Jonathan Meese's first VR-work "Mutter und Sohn". The event also exhibited Hamburg-based artists working with Virtual Reality and presenting their work for the first time. In comparison to many museum's VR-exhibitions, the visitors of the festival were able to experience each VR-work in a separated space, sheltered from the looks of the others and being able to immerse completely within the experience. The only problem of this solution was the time of waiting.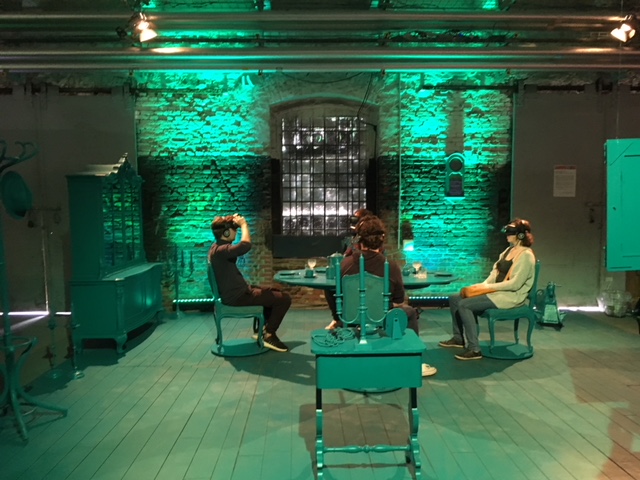 The event was accompanied award ceremony as well. On the opening night of the festival, an international jury awarded a prize for the best VR experience among the showcased works. The "VRHAMMY Award" endowed with €5,000 went to "The Grass Smells So Sweet" by Dani Ploeger. The second prize "HH Emerging Artists Residency Award" endowed with €500 (EUR) and a residency at Wood Arts Institute by art collector Rik Reinking, was awarded to "TRANS//FORM" by Suse Tietjen, Maria Gibert, Martin Kupfer, and Fabian Knieling. Both of the prizes awarded were donated to VRHAM! by ZEIT-Stiftung Ebelin und Gerd Bucerius. Beside these two prizes, there was an Audience Award for the best VR-Experience, which was announced at the end of the festival and which went to the "Land of Cloud" by Tamiko Thiel.
The festival was accompanied a conference as well along with a number of keynotes, discussion panels, and workshops on VR. A lot of national and international guests coming from the fields of visual arts, theatre, literature, cinema, creative industry, art institutions, and science discussed about the impact of the new technology Virtual Reality on society, about how Virtual Reality could change the artistic practice, and the perception of art, as well as about how Virtual Reality could be the medium to spark young's people interest in literature.
Kategorien: Allgemein, Blog, Research, Empirical, Conference